"Life's persistent and most urgent question is "What are you doing for others?"

– Martin Luther King Jr.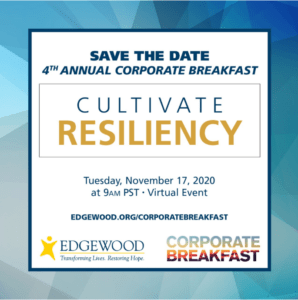 Each fall Edgewood's annual Corporate Breakfast has raised critically needed funds through generous sponsorships and contributions from corporations and individuals in support of the over 11,000 children and families we serve each year with transformative youth mental health programs, family services and basic needs. Together, we are able to do good in our community and foster a culture of giving back.
Join us for a morning of engaging and thought-provoking conversations that offer business professionals and thought leaders the opportunity to network, share innovative ideas, influence, and collectively create positive change. You will walk away with experiences that empower and inform you as an individual and member of the Bay Area corporate community culture.
The Fall 2020 Breakfast will be a virtual, interactive event, taking place on Tuesday, November 17, 2020. Stay tuned for more information!
Corporate partners make a big difference in the lives of our youth throughout the year, and we look forward to your partnership at our 2020 Corporate Breakfast.  To learn more, contact us directly at (415) 418-9702 or at joelleb@edgewood.org.