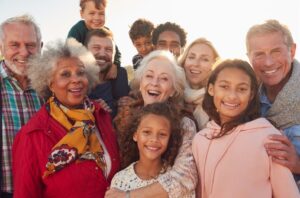 Edgewood Center's Kinship Support Network is celebrating 30 years of providing a positive alternative to the foster care system.
In 1993 Edgewood established the first Kinship program in the country to support non-custodial family members raising children – most often grandmothers. Over the past three decades, over 90% of these youth have been able to stay within a family setting up to the age of 18. Edgewood's Kinship model has since been replicated throughout the U.S. and internationally. Check here for a historical timeline of the program)
After first establishing Kinship in San Francisco in 2000, Edgewood expanded the network to San Mateo County. With many Kinship caregivers in San Francisco unable to afford housing here, Edgewood Center expanded services to the East Bay with support services in Concord.
Nationwide, 2.7 million grandparents have responsibility for grandchildren under 18, according to Generations United 2022 State of Grandfamilies report. In San Francisco, 1 in 7 children live in households headed by grandparents or other relatives. Their poverty rate is twice that of families headed by one or two parents. The Kinship Support Network offers vulnerable, low-income kinship caregivers and family members increased access to comprehensive healthcare services directly and through a network of curated referrals. In addition, Kinship's specialist- and peer-led supports help caregivers provide long-term care and permanency for youth to help keep them out of the foster care system.
Healthy Generations is a program within Edgewood's Kinship Support Network focused on mental health counseling, health assessments, health education, stress management and peer support across all ages and stages of the kinship family network. Our program engages caregivers by providing both individual services delivered at home or at a convenient location in the community, as well as group health education workshops and related services that bring the relative caregivers together at a place easily accessible to them, such as their local senior center or at our South San Francisco office. The program offers low-income, vulnerable elderly kinship caregivers and the youth in their care with mental and behavioral health services and support directly and through a network of partnering agencies.
The Kinship Support Network also supports Kinship youth that often lack the skills to succeed on their own. Nearly all the youth we serve are affected by complex trauma. To treat these needs, we use a multifaceted approach to help clients achieve independence, stability, and wellness within the context of their family, community, and culture. Our services include comprehensive mental health treatment, educational and vocational support, case coordination, skills training, and 24/7 crisis support
The most important outcomes for kinship caregivers are an 80% improvement in overall health and an 80% improvement in specific health domains (e.g., chronic disease symptom reduction, increased exercise, improved diet, better communication with PCP, reduced use of ER, etc.). The most critical outcome for kinship youth is achieving a 100% permanency rate (remaining safely in a family setting until turning 18).
Edgewood will be commemorating the Kinship program throughout September, culminating in a celebration of the caregivers, youth, and program alumni in November.