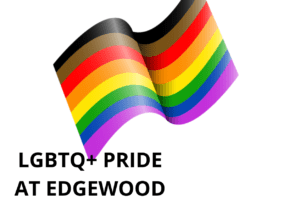 Edgewood Center for Children and Families is deeply committed to serving the specific needs of LGBTQ+ youth. An important part of our ongoing celebration of PRIDE, is the recognition that LGBTQ+ inclusion must also have a commitment to racial justice at the core. In 2017, a new PRIDE flag was designed to include a Black and a Brown stripe in addition to the original six colors. This new flag represents the Black and Brown LGBTQ+ individuals and their important place in the history of queer liberation, and centers Black and Brown individuals as inseparable from the very meaning of PRIDE. This more inclusive iteration of the rainbow flag aligns with Edgewood's commitment to continually support and uplift the LGBTQ+ children and youth.
Edgewood knows that LGBTQ+ people face daily micro and macro aggressions that exacerbate mental health conditions. The National Alliance on Mental Illness recognizes that LGBTQ+ individuals are almost three times more likely than others to experience a mental health condition such as severe depression, anxiety, post-traumatic stress disorder, thoughts of suicide, and substance abuse. Although Edgewood Center serves all children, youth, and families struggling with these issues, we are often distinguished for our core capability of serving the unique mental health needs of the LGBTQ+ community, and we have helped many LGBTQ+ youth overcome life-challenging conditions caused by discrimination, stigma, and oppression they experience as a result of sexual orientation or gender identity.
At Edgewood Center, we respond to the needs of the diverse spectrum of children, youth and families who seek our services. In 2018-2019, 72.5% of the youth served by Edgewood identified as non-white, and in the same year 18.7% of them self-identified as LGBTQ+.
Throughout our organization, Edgewood values diversity, equity, and inclusion. By using a trauma-informed lens, we foster a safe and healing environment for LGBTQ+ children and youth and their families. We embed these values into our behavior and clinical practice. The Crisis Stabilization Unit is our first line of defense for children and youth who are so vulnerable that their behaviors put them into life threatening situations. The staff in the CSU provide a safe space for children and youth experiencing an acute psychiatric crisis — such as contemplated or attempted suicide, self-harm, severe depression, anxiety, or post-traumatic stress disorder. Children, youth and their families, receive the immediate help they need in order to begin recovery within 24 hours. Without the CSU, clients like this are likely to endure hospitalizations and emergency room visits that exacerbate their stress and trauma.
This year we celebrate PRIDE by proudly helping our community grapple with the reality that inclusion and equity rests on the foundational understanding that the people we serve, just like our staff, are unique and complex in their identities. This June, you can help us celebrate PRIDE month by supporting our programs that improve the lives of LGBTQ+ children and youth in the Bay Area