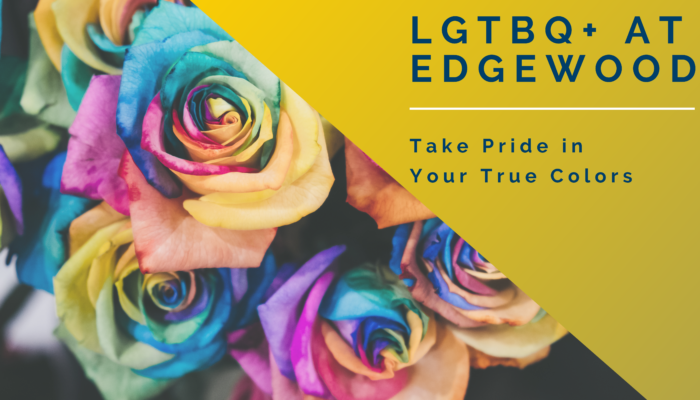 Edgewood Center for Children and Families continues its legacy of commitment to serving the needs of and advancing equal rights for LGBTQ+ youth and families.
Gilbert Baker (American artist, gay rights activist) created a symbol of an enduring legacy of pride through the creation of the LGBTQ pride flag. This flag has come to mean so much more as we have endured this year through a pandemic and injustices that continue to shape the communities in which we live and work. In 2018, Daniel Quasar updated the traditional pride flag again pushing towards a progressive flag that features the new black and brown stripes to represent people of color, and baby blues, pink and white to now be inclusive also of transgender individuals. All are included.
The pervasive and evolving issues that arise for LGBTQ+ people are deeply understood by Edgewood. We are uniquely qualified to serve Bay Area families but also intricately serve the LGBTQ+ population, particularly youth. As an organization that helps LGBTQ+ youth deal with explicit trauma, we help to instill hope and tangible resources to combat everything from phobia experiences to intricate discriminations. The National Alliance on Mental Illness reports that LGBTQ+ people often struggle in silence, experience a higher risk of suicidal ideation, 120% are at risk of becoming homeless, and often have inadequate mental health care. The current COVID-19 pandemic has only heightened these inherent struggles.
The Trevor Project recently conducted a national survey of 35,000 LGBTQ youth ages 13-24 across the United States and highlighted some interesting trends during the last year. More than 80% noted that the pandemic made their living situation difficult, 70% reported poor mental health, 48% were unable to receive counseling, and 75% have experienced discrimination at least once in their lifetime. Importantly, the survey showed that if LGBTQ+ youth were affirmed in safe spaces that they were less likely to attempt suicide.
At Edgewood Center, through a trauma-informed lens and strengths-based approach, we have sought to create these affirming spaces to let them know that they are seen and heard in order to access the vital mental health care that they need. Edgewood has always valued diversity, equity, and inclusion. We embed these values into all that we do and particularly throughout our behavior and clinical practice.
We have helped many LGBTQ+ youth overcome life-challenging conditions caused or worsened by the discrimination, stigma, and oppression they experience as a result of their sexual orientation or gender identity. One of our first lines of defense at Edgewood to help address these issues is the work being done through our Crisis Stabilization Unit. Here we reach out to vulnerable youth and families exhibiting behaviors that could cause harm to themselves or to others. The CSU staff provide a safe space for children and youth experiencing an acute psychiatric crisis – which for many has heightened stress, anxiety, and depression due to the pandemic. Children, youth, and their families, receive the immediate help they need to begin recovery. Without programs like the CSU, clients like this are likely to endure hospitalizations and emergency room visits that exacerbate their stress and trauma. All are welcome here to receive the help that they need.
After this tough last year, in 2021, we celebrate PRIDE by standing in the gap for the LGBTQ+ community to awaken our surrounding communities to the need for inclusion and equity that sees and hears the beauty in the complex of identities for people that we walk alongside in our daily lives and beyond. This June, you can help us celebrate PRIDE month by supporting our programs that improve the lives of LGBTQ+ children, youth, and their families in the Bay Area.
Sources
National Alliance on Mental Illness. (n.d.). LGBTQI | NAMI: National Alliance on Mental Illness. Retrieved June 7, 2021, from https://www.nami.org/Your-Journey/Identity-and-Cultural-Dimensions/LGBTQI
The Trevor Project. (2021). The Trevor Project National Survey. https://www.thetrevorproject.org/survey-2021/