Giving Back Never Goes Out of Style!
The story of Edgewood's relationship with Levi Strauss & Co. is almost as old as Edgewood itself. In 1854, founder Levi Strauss donated $100 from some of his first profits to Edgewood Center for Children and Families (known back then as the San Francisco Protestant Orphan Asylum). In the 160 years since that first donation, the place at the Edge of the Woods (as Edgewood kids nicknamed it in 1944), still partners with Levi Strauss & Co. every year on the latter's global day of giving back: Community Day. Read more about Levi's Legacy.
Levi's Community Day is a tradition that everyone at Edgewood looks forward to – particularly youth in our residential and day-treatment school-based programs. On the morning of May 4, volunteers from Levi's arrived to set up a "pop-up store" in Lane cottage, one of the homes for youths in Edgewood's Residential Care program. It didn't take long for the volunteer crew to outfit the space with racks and tables stock full of brand new jeans, shirts, denim jackets, and backpacks all donated by Levi's. One by one, children and youth between the ages of six and 17, stopped in to shop for new clothing. In all, over 80 Edgewood kids would receive the new clothing from Levi's.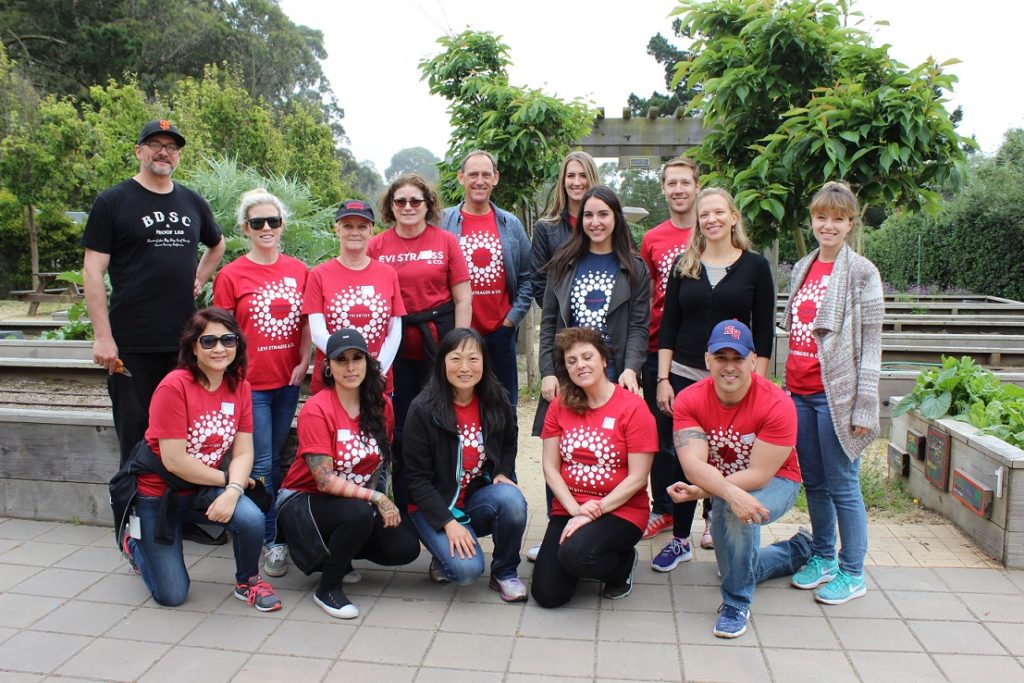 "They really enjoyed being able to pick out which style of each product they would like," explained Kristin Thomas, Edgewood's Associate Director of Corporate and Community Engagement. "The entire experience is very exciting for them and demonstrates the importance of the relationship between Edgewood, Levi Strauss & Co., and the community." 
Levi's presented Edgewood with a $15,000 Levi's Foundation grant, which will help support youth through a variety of programs and services. In addition to the pop-up shop,  the volunteers also got their hand dirty weeding and beautifying the Edgewood Garden Learning Center, which Levi's helped fund in 2011. 
The day concluded with a fun game of basketball between the volunteers and the Edgewood Tigers and Cheetahs classes. Edgewood remains ever grateful to the wonderful staff at Levi Strauss & Co. for their continued collaborative efforts in transforming the lives of Bay Area children, as well as the opportunity to be included in their efforts to give back on a global scale.