A Home in Need
For many of the children who utilize our Residential Treatment Program here at Edgewood Center for Children and Families,  it is often their first time experiencing a safe and stable home environment. Although their individual circumstances differ, certain alarming commonalities stand out. Some, for example, were bounced between as many as ten schools and foster care placements. Others came having endured repeated instances of physical abuse and neglect. Many more came from neighborhoods plagued with violence and little-to-no positive social network.
To offer hope and healing to these youth, we operate our residential program out of three cottages: a home for a total of 200 children and teens throughout the year who are struggling with mental health issues. Walk into one of these cottages and you will see what you would in any home – kids helping the adults prepare a meal in the kitchen, doing homework before bedtime, playing games or reading books in the living room. The cottages provide the beginnings of a nurturing and structured life for our youth. Now, after many years of loving use, these cottages – the children's homes – need to be renovated.
This extensive project will cost approximately $700,000.
---
Project update as of February 5, 2018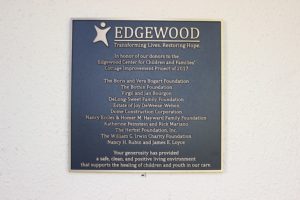 A plaque has been installed outside of Dimond Cottage to honor the contributions of our generous donors. With their help, we were able to raise nearly $600,000 for our Cottage Improvement Campaign.
The Boris and Vera Bogart Foundation
The Bothin Foundation
Virgil and Jan Bourgon
DeLong-Sweet Family Foundation
Estate of Joy DeWeese-Wehen
Dome Construction Corporation
Nancy Eccles & Homer M. Hayward Family Foundation
Katherine Feinstein and Rick Mariano
The Herbst Foundation, Inc.
The William G. Irwin Charity Foundation
Nancy H. Rubin and James E. Loyce
---
Project update as of May 17, 2017

The renovations have been completed! We marked the re-opening of Dimond Cottage with a celebration and ribbon cutting event.  Edgewood would like to extend a huge thank you to our supporters for taking decisive action and restoring the homes of our youth.
---
Project update as of January 25, 2017

Thanks to private gifts from supporters like you, renovations and repairs are underway!
The project broke ground on January 17, 2017, with Dimond cottage, home to our teenage youth, being the first of the three cottages to undergo modifications. Huge thanks to Dome Construction for managing the project for the Dimond cottage! Dome Construction has given a $50,000 cash award as well as $50,000 in-kind award in support of the entire project.
The updates include the installation of new flooring, painting, and purchase of new furniture such as chairs, love seats, benches, beds, and dressers. We look forward to hosting a ribbon cutting ceremony to thank all of our generous donors.
Please consider making a gift to Edgewood so that we can give kids a place they can call home. Your support of the Campus Improvement Project will help youth in so many ways including providing them with a comfortable and safe environment, and an inviting home that allows them to simply be kids!
SPECIAL THANKS TO OUR CAMPUS IMPROVEMENTS PROJECT SUPPORTERS!
$100,000+
Estate of Joy DeWeese-Wehen
Dome Construction Corporation
$50,000+
The Bothin Foundation
$10,000+
Nancy Eccles & Homer M. Hayward Family Foundation
The Herbst Foundation, Inc.
The Boris and Vera Bogart Foundation
Virgil Bourgon
$1,000+
Nancy Rubin and Jimmy Loyce
Pat Scott and David Tirrell
Daphne Smith
Donald and Shirley Kerner
Mark and Kathryn Stockhus
Victor and Diane Jin
$500 and below
Joanne Poile
Jude and Eileen Laspa
W.M. Primozic
Carol Savary
John and Pamela Sebastian
Martha and John Mouer
Jerome and Margaret Rosenthal
Ann and Cornelius Corkery
Kathleen Velykis and Kenneth Lewis
Bonnie Lindahl
Carl Jay
Claude Nave
Clayton Mitchell
Elizabeth Storey
Golden Coast Properties
Greta Savage
James and Marilyn McCarthy
Robert Nurisso
Sara Silberschatz
Sharon and Paul Melodia
William Hudson and Nora Gibson
William Jansen
Stanton and Marsha Glantz
Connie Richardson
Dorothy Bridgeman
Janet Martin
Karen Cochran
Kari Norder
Martha White
Mrs. Mary J. Kelley
Olga Sorensen
Shirley Perkins
Steven Hibshman
Susan and Eric Hendrickson
Yolanda Sandoval
Barry Chauser
Joseph and Moira Russoniello
Kay Yoshida
Manuel and Ana Lucas
Pamela Shea
T. Zimmerman
Mrs. Betty Bernstein
Alfred Sanguinetti
Gary and Irene Katz