Supporting Edgewood's Work for over 50 years
Founded in 1948, the Edgewood Auxiliary raises funds and awareness for Edgewood Center for Children and Families. Since 1967, Auxiliary members have staged the Edgewood fair. Over the years, this sophisticated fundraising party and shopping extravaganza has raised more than $8 million to support Edgewood's work.
Today, Auxiliary members continue to be a vital part of the Edgewood family by volunteering on campus, leveraging philanthropic donations, and building community awareness for our organization. The 55th Edgewood Fair was held virtually on May 20 & 21, 2021, thank you to all our generous supporters!
To learn more about this exciting annual event, including information regarding our Virtual 56th Edgewood Fair taking place in Spring 2022, visit our Edgewood Fair page.
About The Edgewood Fair
The Edgewood Fair began on May 3, 1967. But the founders organized this ambitious event nearly a year before.
"We want to offer fairgoers diverse items and ideas to bring added beauty to their homes and gardens," Auxiliary President Nancy Maushardt wrote. "All the proceeds will benefit the children of Edgewood."
We've kept this vision consistent through four decades of social and cultural change and have maintained many of the same elements from the very first fair. Members of the Auxiliary continue to oversee the production of the Fair, from invitations to advertising. Edgewood's children participate by growing flowers in container gardens, building bird feeders, and painting pictures to be displayed at the Fair.
The first Fair netted $5,000 and was such a success that the Auxiliary immediately began to plan the first of its many encores. In the '70s, the Fair introduced the Country Kitchen featuring the Auxiliary's homemade mustards, chutneys, and sauces. The '80s brought the inclusion of exhibitors offering goods ranging from jewelry to artwork.
Demetra Bowles, 1990 Fair Chair, said it up best when she said "I learned that the magic begins to be created the day after last year's fair, and that the magic is in each one of us who contributes from her heart and helps sponsor the community of Edgewood children."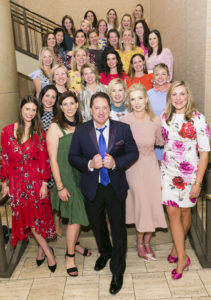 Join The Auxiliary
If you're interested in becoming
an Auxiliary Member, please
email Jamie Lee Taylor Cassell
or Melissa McKenzie.
Auxiliary Leadership Presidents
Bailey Flynn & Michelle Harris
Vice Presidents, Fundraising (Fair Chairs)
Courtney Welch & Claire Bayles
Vice Presidents, Membership & Nominating
Jamie Lee Taylor Cassell & Melissa McKenzie
Sponsorship Chairs
Pamela Hamrick & Melissa Ippolito
Vendor Chairs
Allison Homs & Eva Vaz
Treasurers
Gina Lytle & Kristin Pech
Secretaries
Michelle Hanna & Chrissy Edwards
Volunteer Coordinator
Mimi Kuehn
Presidents Emeritus
Jenny Moore & Alston Calabrese
Auxiliary Members
Kristyn Bassi
Claire Bayles
Christina Bloodgood
Shelby Bradley
Caroline Brinckerhoff
Jamie Lee Taylor Cassell
Noa Clark
Katie Colendich
Kate Connolly
Carrie Cooper
Danielle Creech
Nev Dowdney
Christina Edwards
Allison Eisenhardt
Amy Evans
Priya Femmer
Erin Morrison Flynn
Alison Gathright
Amity Gay
Victoria Grey
Pamela Hamrick
Michelle Hanna
Michelle Harris
Allison Homs
Melissa Ippolito
Jennifer Johnson
Myka Keil
Maggie Koenig
Maja Kollmann
Mimi Kuehn
Jennifer Kurrie
Gina Lytle
Cathryn Lyman
Whitney Matagrano
Lauren McDowell
Melissa McKenzie
Jenny Moore
Kristin Pech
Stacey Poole
Susie Hall Sawyer
Lindsay Scollin
Joanna Seelbach
Vanessa Snyder
Kristin Sprincin
Kat Stark
Robyn Swift
Leslie Tonsing
Sarah Torbin
Eva Vaz
Courtney Welch
Gwennie Wittlinger
Miriam Zelinsky
Jennifer Zelnick